Fighting game community

a new challenger
The 8th annual Esports Canada Cup event has passed. It comprised of many upsets and close matches, you would almost think you were watching a Sunday afternoon football game. If you have read my post on Capcom Cup you'd see a focus on the Street Fighter tournament at FGC events. However, there were many great games to get your weekend dosage of action. Canada Cup had the upsets like ItaZan and Punk getting knocked out early in Street Fighter; and the prime example a fricken "Double-KO" in the Grand Finals of Marvel vs Capcom: Infinite, or "MvC:I". Just…..what?!?! *mind blown* (That round is queued below, watch the reaction video after it happens as well).
MvC:I – Teemo vs Richard Nguyen Double KO at CGC
Just before this happened, Canadian player
Teemo
forced a bracket reset (more on that later). Then he proceeded to upset 
Richard Nguyen
 in the Grand Finals. Which also meant that he won possession of the
Mind Stone
. What does that mean? MvC:I late release allowed for only half of the year for a tour, Capcom created the "
Battle of the stones
" tour where the past 7 MvC champions, 6 premier event winners, and 3 Online regional tournament winners will enter a Top-16 tournament. The catch:
Winning a premier event allowed you to be a stone barer. Which granted you a single use match-up changing trait specific to each stone
(Power, Soul, Mind, Reality, Space & Time). winning the 
Mind Stone grants Teemo the
ability to choose his opponents' characters and stone ability
. Seemingly the most powerful stone of them all, the crowds' reaction supported this claim. However, with the Reality Stone power still unknown we would beholden to find out at the Latin America Finals when it is announced if it'll trump that of the Mind Stone.
Tournaments and events, eh?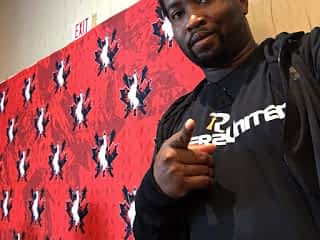 These events are not easy pace either, walking around in my GamerzUnited gear I wanted to see everything only to realize I couldn't. There are dozens of monitors & players with even more spectators filling up the whole business centre; add Multiple big projector screens for prime-time matchups. Throw in multiple halls running tournaments at the same time and you have a massive player/fan-based event. With many FGC events, it is not uncommon to play host to 5-15 game tournaments at a time. 
You'll see everyone running to either follow a game or their favourite player. The excitement and cheers draw you in; while the large circle hook you into hovering over a screen as two battle it out in Guilty Gear X. Watching characters like Marth take on Fox in Smash Bros. and Mew2King taking first place in Melee. All while hearing the crowd engaged as Canadian Kage and None made an epic bid to get to the Grand finals; it is an experience you'd never expect to get at an Esports event.
"What is this Grand Finals you mention?" Oh ya, I forgot you had asked. Esport tournaments work on the basis of double-elimination, losing once will send you to a losers bracket while allowing a chance to compete in the end if you make it out the bracket. In the end, there are a winners and losers bracket finals which lead to the Grand Final between said finalist. Coming from the losers bracket requires that you win the first set which results in a  Bracket Reset (essentially putting the Winners finalist into the losers bracket) then it is sudden death to determine the Champion.
Just how big is big…
FGC events have been around for years now and it is no stranger to the competitive scene. This year Canada Cup had 11 tournaments that all had a cash pot to win from; Smash bros. handed out $5000 and other tournaments had $1000s of a prize pot. SF:V had a pot of $15,000 and just under 300 participants, it's amongst the most popular for good reason. It's a weekend unlike any other where you'll see the best of Marvel Vs Capcom, Blaze Blue, Guilty Gear, newcomer Dragon Ball Fighterz and more. All of which are competing to claim victory and cash earnings. Even still, all of this pales in comparison to EVO and Capcom Cup where that tournament increased the pot by $100k this year to………….$600k………I'll wait for the jaw to close.
The Event ahead
For most games, they end once the event concludes. Waiting for the next event to provide new tournaments and prize pool. Capcom however, plays throughout the year at premier, regional and ranking events (typically online events) gaining 'Pro Tour' points. These events scale in points awarded: EVO(evolution championship) the top-256 gains points and has the highest potential with 1000pts for first place vs 400pts at premier events for first, while the top-64 earn points. In comparison ranking events award points only to the top-16, with first place receiving 160pts. At the end of the tour, 31 players are decided by points whilst the 32nd spot is decided by a last-chance event the day before the Capcom Cup. it is here You can guarantee upsets, cheers, and devastations. With heated emotions and undoubtedly many "Pop-offs" (Still very personal). it's obvious why it remains one of the highest viewed Esport in FGC.
These events are the result of the consistent dedication of organizers, players putting in countless hours, and fans that continue to support ESports. With a bolstering number of new players picking up the controllers, Esports and gaming are in a very good spot. GamerzUnited brings together the competition as well as others who just merely enjoy gaming with friends. Each year gaming is becoming more accepted as a competitive Esport. With the continuing trend, it's amazing to see where it has come from; and even more exciting to see where it is going.