Spin that rally towel

The jays found a home
If I were to tell you back in 2019 that the Blue Jays would make the playoffs in 2020, you'd probably do one of two things: laugh in my face or call me crazy…for any sane person, probably both. 
But in a shortened 60 game season, they actually managed to accomplish this.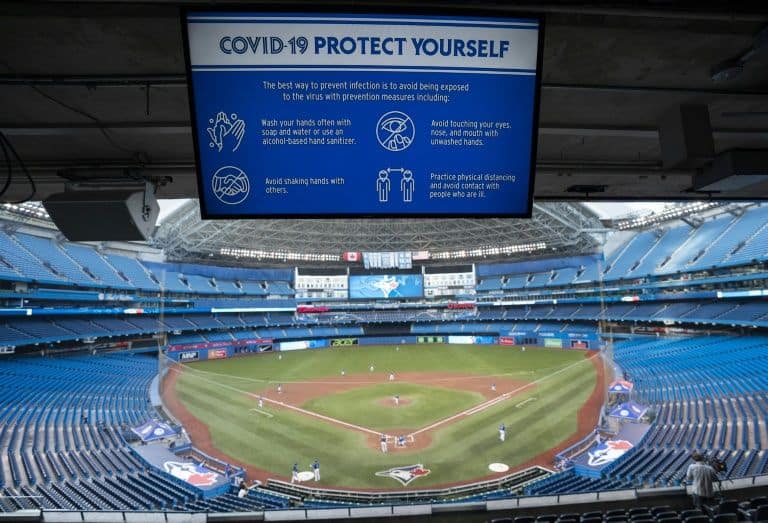 Where to start…Oh, COVID-19.
The MLB owners and players were at an impasse on whether or not to even have a season. Imagine that, we wouldn't have a baseball season for the first time since the 1994-95 season.
As the spring training camp was coming to an end, the NBA and NHL were in the middle of an entertaining season when they were forced to suspended play. An effect of COVID-19 south of the border causing sports as a whole to come down to a crashing halt.
This had UFC cancelling their events, boxing matches were being pushed backed, even tennis and golf tournaments were affected. 
There were numerous days of no sports to speak off; and baseball hasn't even gotten started yet.
~no sports was really sad…with the real kind of tears.~
Los Angeles is celebrating its 17th championship, but NBA commissioner Adam Silver is celebrating something possibly even more important.
"We had zero positive tests," MVP LeBron James said before repeating the bubble's best stat. "We had zero positive tests for as long as we were here…"
It's better than what we had envisioned...And I think everyone realized they missed it more than they even understood. - SI.com
The restart was well received and looked at as an instrument on how to cultivate an entire season amongst the COVID pandemic.
Following coining the term "Bubble-format", it proved to be as successful when it came to the health and performance of the players and to allow fans to still enjoy the rest of the season.
The MLB, however, had a much rockier road with the threat of cancelling the entire season. A move that would leave the financial landscape for the future of baseball in America heavily imperilled. Along with an already depleting fan base, it was looking really grim at the onset of the season.
There was no bubble format in place, players were opting out, and the general safety was in question. How was this season going to work out?
Back at home, the situation seemed even more dreadful as the Blue Jays learned they would be denied permission to play in Toronto due to cross-border travelling.
With the constant worry of what would happen if players got the covid-19 virus, The Blue Jays were forced to look at various cities to call their home.
But Pittsburgh, New York & Philadelphia all denied us due to their own local health protocols.
– How dire did it become? Our home opener was in Washington…against Washington. Yep, this is what seems to be happening in 2020. –
However, the Blue Jays were eventually fortunate enough to get clearance to play in their AAA affiliate ballpark in Buffalo at Sahlen Field.
Folks, we got baseball back…at least the start of it.
You've made it this far. Subscribe now and don't miss another post.
One week in and the league was already being criticized while COVID outbreaks struck several teams. This meant the season was already in jeopardy to not even complete a shortened schedule.
It had teams such as the St. Louis Cardinals, Miami Marlins, and Philadelphia Phillies being forced to postpone and rescheduled many games.
This led to a lot of difficult maneuvers amongst an already difficult 2020 year.
We lost legend Kobe Bryant, reached a global peak in systemic racism and racial injustice; One that still remains a hot topic. And there's this global pandemic thing; just to name a few. 
Don't you love it when you get caught up with all the news in one paragraph?
- weird year, new rules -
With sports at the mercy of the pandemic, new rules were needed to ensure player safety and efficiency within the shortened time frame.
The biggest for the MLB was that extra innings will have teams start with a runner on second base. This attempt would minimize games going 15+ innings.
The first game of double headers will also only go 7 innings. And they introduced 2 new playoff spots for both the American and National leagues.
This allowed for many teams to capitalize on these new rules of a shortened season, which probably wouldn't have happened in a regular 162 game year.
Teams like San Diego, Miami and the Chicago White Sox took advantage. While others underperformed like Boston, and now-former World Champion Washington Nationals. 
~Bold take: 60 may just be the new regular, at me below.~
- Let me just watch a Jays Game... -
The Blue Jays finished the short season with a 32-28 record. Which, if it had been a full 162 games, was on pace for an 86 win season. That would've been 19 more wins than last year's 67. 
We made it to the playoffs as the second wild-card spot in the AL.
Led by young talents Bo Bichett, Cavan Biggie, Rowdy Tellez and the emergence of Teoscar Hernández. As well as signing ace pitcher Hyun Jin Ryu from the Los Angeles Dodgers.
We saw a young squad put up a valiant effort against the top-seeded Tampa Bay Rays, but still suffered a 2-0 sweep in the first round.
This still marks as the first playoff appearance since 2016. And while sounding grim, the Blue Jays have been in rebuild mode since the departures of José Bautista and Edwin Encarnacion back in 2017.
One could say that the future is looking bright for this talented young squad; Gaining some valuable MLB experience for the upcoming stars amongst an absolute cluster-f#@k of a year.
- A bright Jay's Future -
Look at it this way. It wasn't until José was 29 when he found his swing and struck fear into every pitcher he faced. While becoming a 2-time home run champion and having the 3rd best playoff moment in Blue Jays history.
There's been a lot of talk concerning the new rules, extra wild card and 60 game format. Should MLB keep the extra innings rule? Are 60 games too short? Does the extra wild card create more excitement? Tell me your thoughts below and let's discuss our favourite past time.
It was great to see baseball come back again, and we'll have to wait and see what the 2021 season has in store. Enjoy the NFL season and stay safe!